In Federalist Paper #12 (27 November 1787) Alexander Hamilton wrote "A few armed vessels, judiciously stationed at the entrances of our ports, might at small expense be made useful sentinels of the laws." As our country's first Secretary of the Treasury, Hamilton was the driving force behind the creation of a revenue marine service, the precursor of the modern United States Coast Guard.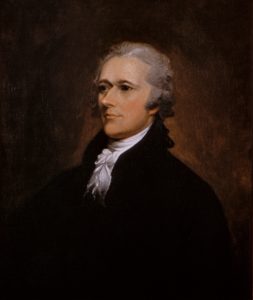 The Coast Guard was officially founded on August 4,1790 when the first Congress authorized Secretary Hamilton's proposal to build ten cutters for the Revenue Cutter Service to enforce tariffs and prevent smuggling. Since the Continental Navy and Marines had disbanded following the end of the American Revolution, the Revenue Cutter Service was the nation's only sea service in the early years of the new republic. Hamilton assigned revenue cutters to the East Coast's ten major seaports, to collect import tariffs which were critically important to the economic viability of our new nation. In addition to their law enforcement role, the fleet of cutters rendered assistance as needed "for the protection of lives and property at sea," a humanitarian life-saving role that continues to be one of the missions of the Coast Guard to this day.
The service received its present name in 1915 when the Revenue Cutter Service merged with the Life-Saving Service. The nation then had a single maritime service dedicated to saving life at sea and enforcing the nation's maritime laws. The Coast Guard began to maintain the country's aids to maritime navigation, including operating the nation's lighthouses, when President Franklin Roosevelt ordered the transfer of the Lighthouse Service to the Coast Guard in 1939. In 1946, Congress permanently transferred the Bureau of Marine Inspection and Navigation to the Coast Guard, thereby placing merchant marine licensing and merchant vessel safety under its purview. In 2003, the Coast Guard was transferred into the Department of Homeland Security.
This August 4, 2020, Military Outreach for Service wishes current and former members of the United States Coast Guard a very happy 230th birthday.