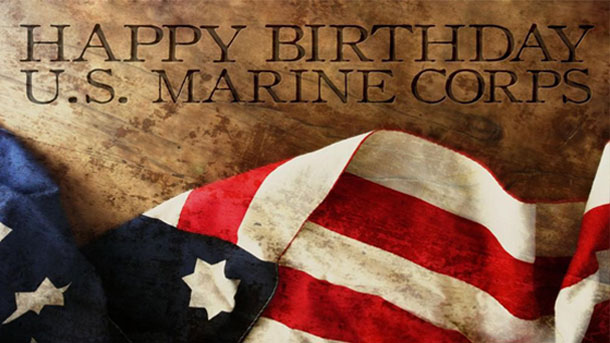 This November we send a special shout out to our Marine service members and veterans, as the US Marine Corps celebrates its 245th birthday. The origins of the Marines goes back to the Revolutionary War. In October of 1775 the Continental Congress developed an official plan to use Marines to oversee a mission to intercept ammunition shipments from Britain. This mission, and a resolution passed on November 10, 1775 to create an official standing Marine Corps force, were the building blocks for what eventually became the modern U.S. Marine Corps. The motivation for that resolution — a plan to attack Nova Scotia in order to annex it — never happened. But the Marines remained.
According to the U.S. Marine Corps official website, "Throughout the American Revolution, the Marines served with distinction aboard the Continental vessels, but with the ending of that conflict, the entire Naval Service was so neglected through lack of appropriations and necessary legislation that by 1785 it actually ceased to exist."
That changed in 1794 when Congress issued the first legislation addressing the need for a Navy and Marine Corps since the Revolutionary War. In the late 1700s, piracy had forced Congress to take another look at using naval warfare to project the military power of the United States. At this time, the Marines still operated under the U.S. Navy, which itself operated under the Secretary of War. Legislation to make the U.S. Navy its own department came in 1798, with more legislation to establish the U.S. Marines as its own branch of service enacted later that same year.
The birthday itself was first formally recognized in 1921 at the behest of Major General John A. Lejeune, who ordered November 10, 1775, to be officially recognized as the Marine Corps birthday.