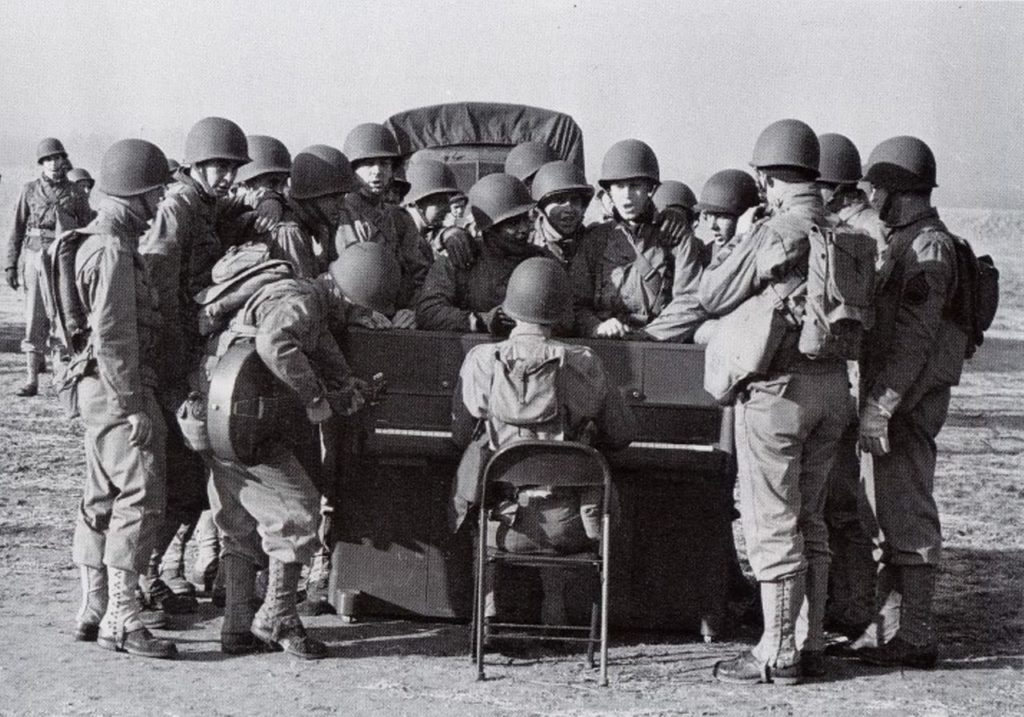 Here is a little-known story from the World War II era about when pianos went to war — the story of Steinway & Sons Victory Verticals.
During World War II, the U.S. government shut down the production of musical instruments in order to divert vital resources such as iron, copper and other materials to the war effort. At first, Steinway & Sons was prohibited from building pianos due to these restrictions. The company bided its time instead producing coffins and parts for troop transport gliders, until it was granted a contract to send specially design pianos to commissioned war soldiers.
Everyone had a stake in the war effort. Even the Steinway Company president had four sons in the military during this war. The government determined that the war effort should include entertainment that could lift soldiers' spirits. They decided to purchase pianos and quickly realized that just any old piano wouldn't do. They needed pianos hardy enough to withstand the arduous conditions out in the field—including being packed into a crate and dropped out of a plane.

Steinway's pianos weren't well-suited to where soldiers were stationed, including in the tropics. The company focused its efforts and designed a piano that was rugged and durable while being economical in the use of materials. These Victory Verticals were manufactured in their Queens, NY-based factory. They didn't have legs like most upright pianos, because they wouldn't have withstood an airdrop. Other special features included water-resistant glue and anti-insect treatments, keys covered with celluloid instead of ivory, and bass strings wound in soft iron instead of the traditional copper. Overall, they were designed to contain only a tenth as much metal as a normal piano. They included handles placed under the key bed and the back, so that four soldiers could carry the 455-pound instruments.
Steinway proceeded to make over 3,000 "Victory Vertical" pianos designed specifically for troops in battle between 1941 and 1953. While each Army piano was painted with "three coats of olive drab lacquer, slightly dulled," other colors were used for the Navy, Marines, Army Air Corps, and the Coast Guard. In 1941, the first "Victory Vertical" was dropped by parachute, complete with tuning equipment and instructions. Inside each transporting crate was a set of tuning tools, instructions, spare parts, and sheet music consisting of light classics, hymns, sing-along tunes, and boogie-woogie numbers.
It shows the resiliency of the human spirit that music was deemed to be such a powerful morale boost that pianos were built to be parachuted around the world. The Steinway Company has a 1943 letter from Private Kenneth Kranes, stationed in North Africa, sent to his mother back in New York. "Two nights past we received welcome entertainment when a jeep pulling a small wagon came to camp. The wagon contained a light system and a Steinway piano. It is smaller and painted olive green, just like the jeep. We all got a kick out of it and sure had fun after meals when we gathered around the piano to sing… I slept smiling and even today am humming a few of the songs we sang." Victory Verticals provided excellent camaraderie and created a strong appreciation on the battlefield for listening to music during stressful times.
During our present challenging time, make time to listen to, enjoy and even share some music. It doesn't matter if you play a piano, dust off some CDs to wow your children with old technology or use Bluetooth speakers to play your Spotify list. Remember music is an excellent way to strengthen your soul, give your family something to look forward to and remind us why we all social distance to keep our fellow Americans safe.